In the world of blogging, the art of sharing ideas, knowledge, and passions takes shape. In this guide, we will embark on a journey through researching and analyzing the best blogging tools. Imagine your blog as a blank canvas, ready to be transformed into a masterpiece of words and images that will capture the attention of a vast online audience.
We are here to explore all the various options, guide you through the vast labyrinth of choices, and give you the key to open the door to a new world of expression and sharing. It's a world where your voice has the power to inspire, inform, and entertain. But the first choice to make is regarding the platform to use.
Each platform has its own personality, strengths, and peculiarities. And the platform you choose will influence how you interact with your audience, your creative freedom, and even your long-term success.
So, get comfortable, prepare to explore, and discover which of these 'digital homes' is your perfect dwelling in the world of blogging. Whether you're an aspiring writer, an industry expert, or simply someone with a passion to share, this guide will equip you with the tools to make an informed decision and embark on your journey into the fascinating and rewarding world of blogging.
The Blogging World: A First Glance
Anyone involved in marketing and digital has wondered at least once what blogs are and what the best blogging tools are. Their story began in the distant year of 1997 in the United States when Dave Winter, a creative, created innovative software that allowed sharing content on the vast web. In the same year, a hunting enthusiast coined the term 'weblog' and decided to share his passions through a personal webpage on the internet.
And this is the essence of blogging: offering anyone the opportunity to share and express their passions. In short, a blog can be likened to a virtual secret diary where one can express their passions through images, videos, and captivating texts. In Italy, the phenomenon of blogs started to spread in the 2000s with the introduction of platforms like Blogger, AlterVista, WordPress, and even the famous MySpace and Windows Live Space.
However, with the growth of social networks between 2009 and 2010, many blogging portals closed down. Nevertheless, even today, historical platforms like AlterVista, Blogger, WordPress, and MySpace are widely used for creating blogs, providing accessible tools for everyone. Today, blogs have become an essential element for many businesses and professionals looking to promote their products and services. Thanks to their ease of use and the ability to reach a broad audience, blogs have become an essential tool in digital marketing.
In addition to traditional platforms, new platforms have emerged in recent years that offer advanced and customizable features for creating engaging and successful blogs. For example, Tumblr has become very popular among young people and artists, offering an intuitive interface and tools for sharing images, videos, and more.
Furthermore, blogs have played a significant role in promoting e-commerce. Many companies use blogs to introduce new products, provide reviews and advice, thus engaging their customers in a more direct and personal way.
Blogging Tools: What Exists and Which to Use?
In the vast and ever-dynamic digital universe, parallel to numerous other continually evolving sectors, the world of blogs represents a glittering galaxy of opportunities. As you delve into this fascinating territory, you discover that the Internet offers a myriad of blogging tools and platforms to choose from. This wealth of options is not just a mere backdrop but a genuine key to unlocking a world of opportunities and success.
Choosing the right blogging platform and tools is a crucial and decisive step. The variety of available options is astounding, and each comes with its own set of features and potential. The selection of the right tools is not a trivial decision; it reflects your specific needs and the type of content you intend to create.
On one hand, there are powerful Content Management Systems (CMS) like WordPress, which offer extensive flexibility and virtually unlimited customization. Indeed, opting for a CMS gives you total control over the look and content of your blog, allowing you to create a truly unique environment. However, it should be noted that it will require an investment of time and technological skills to configure it effectively.
On the other hand, if you're looking for a quicker and more immediate solution, you might lean towards proprietary services like Medium or Blogger, which provide a ready-to-use blogging experience with preset settings that allow you to start publishing content effortlessly and swiftly. However, you'll have to contend with some limitations in terms of customization compared to a CMS like WordPress, which shines for its extreme flexibility.
The decision you make in the end will directly impact the success of your blog. A thoughtful and considered approach to platform selection can be the springboard to achieving your goals. Choosing wisely means being able to fully realize your vision and optimize the experience for your readers, leading you on the path to the desired success in the blogosphere.
But let's delve deeper and carefully examine some essential blogging tools to consider in the creation of a successful blog.
6 Must-Have Tools for a Successful Blog: The Key Instruments
There are six key points that we cannot ignore when delving into the magical world of blogging, and among them, the importance of SEO tools for blogs stands out. These six fundamental tools, including SEO tools for blogs, represent the beating heart of a successful strategy for creating and managing a blog. But we know well that blogging is not just a collection of cold and sterile tools; it's a true adventure, an exciting journey that takes us through the words, ideas, and stories we want to share with the world.
That's why it's crucial to know these blogging tools, especially SEO tools for blogs, and, even more importantly, to know how to use them effectively. They serve as pillars on which to build our online presence, but they are also our brush and canvas to paint the images, both literally and figuratively, that we want to share with our audience.
When considering the creation of a successful blog, these six tools, including the specific approach of SEO tools for blogs, become true allies, each working together to create an engaging experience for our readers.
So, as we venture into the world of blogging, let's always remember that these six key points are more than mere tools. They are the key to transforming our blog into a place of discovery, inspiration, and connection with our audience.
Let's discover them.
Among the most important tools for blogs, we find platforms and Content Management Systems (CMS) These represent the backbone of every modern blog. These tools not only simplify content creation and management but also significantly influence your website's performance. Page loading speed, user experience, search engine optimization (SEO), and the ability to adapt to the ever-evolving needs of the digital market are all variables influenced by the choice of platform or CMS.

If you're ready to dive into the world of blogging platforms and CMS and discover how these choices impact your site's performance, you're in the right place. Let's find out together!
CMS Hub: An Integrated Blogging Platform Ideal for Both New and Experienced Bloggers.
HubSpot CMS Hub is a content management platform developed by HubSpot, known for its intuitiveness and seamless integration with HubSpot's suite of tools.
This CMS allows users to easily create and manage web pages and digital spaces in a cloud-based environment. It's an ideal solution for efficiently building websites, offering advanced capabilities for designing optimized and customized websites for various types of visitors. Furthermore, CMS Hub enables users to view and make content changes across different devices, ensuring an optimal user experience on both desktop and mobile devices. With its content management capabilities, this CMS provides a high degree of flexibility for creating blogs, landing pages, and websites, speeding up time to market.
It offers both free and premium plans depending on your needs. In fact, there are several versions available:
€ 0/month (Free)
€ 21.50/month (Starter)
€ 336.00/month (Professional)
€ 1,120.00/month (Enterprise)
WordPress: An Open-Source Platform with a Drag-and-Drop Editor
Equipped with thousands of plugins and themes, it allows you to create websites, blogs, forums, and apps easily and for free. Hence, it's suitable for those who want a highly customizable blog.
WordPress is widely used as a CMS and is known for its user-friendliness, as it enables users to create web content without the need for advanced programming knowledge. WordPress itself is free to download and use, and its overall cost will depend on your specific needs and choices regarding the domain, hosting, and additional elements like themes and plugins. However, it's essential to note that you can start a WordPress site relatively inexpensively using shared hosting services and free themes, then invest in additional features and customizations as your site grows and as needed.
Ghost: A Lightweight CMS Dedicated to Blogging with an Intuitive Editor and Integrated SEO Tools.
Ghost is a powerful next-generation content platform for creators to publish, share, and build a business around their content. It comes with modern tools for building a website and is widely used for blogging and online publishing. It's a Node.js-based CMS and is open source.
It's known for its clean and minimal user interface and is designed to provide power and flexibility to teams working with it. It's distributed under the MIT license and was created to simplify the online publishing process for both individual bloggers and online publications.
This platform also has a free version and a paid plan with various options:
€ 8.40/month Starter
€ 27.00/month Basic
€ 73.80/month Standard
€ 186.00/month Business
Medium: The Resource for Writers and Creatives Online
Medium is an online content publishing and sharing platform founded in 2012 by Evan Williams and Biz Stone, both co-founders of Twitter. It has gained its reputation as a space where writers, journalists, bloggers, and creatives of all kinds can freely share articles, stories, and various works.
Medium adopts an open publishing approach. This means that anyone can create an account and start publishing content, making it accessible to a broad audience, from newcomers to industry experts who can write about virtually any topic.
Medium offers a way for authors to earn through the 'Medium Partner Program'. This program allows authors to receive compensation based on the number of views and interactions on their articles, offering a monetization opportunity.
The platform encourages interaction among users. Readers can leave comments on articles, creating a community of readers and authors that fosters discussion and the exchange of opinions among users.
Furthermore, Medium has a team of curators who select and promote the best content on the platform, giving visibility to talented writers and highlighting quality content.
Finally, Medium provides intuitive yet effective writing tools, making online content creation accessible to all, regardless of their level of experience.
Many of its features are available for free, but there's also a paid version called Medium Premium that offers benefits like access to exclusive content and ad removal.
2. Blog Planning: Blogging Tools for Content Planning
When it comes to driving blog success, content marketing professionals and bloggers know that planning is the key. Blog planning is the engine that powers this content production machine; it's a strategic process and an essential document for those who want to maintain a high-quality and goal-oriented blog.
"It's the secret tool that ensures content is well-structured, consistent, and directly aligned with desired objectives.
It's the key to maintaining content consistency and quality, avoiding digressions—a fundamental resource for those looking to grow their blog effectively and sustainably.
To achieve these results, in addition to a well-organized editorial plan, you need to consider two other elements: defining your target audience and optimizing your content.
Make My Persona: Buyer Persona Template Generator for Your Marketing.
Make My Persona is a buyer persona template generator offered by HubSpot, a free tool that allows you to create customized buyer persona templates for your marketing campaigns. A buyer persona is a semi-fictional representation of your ideal customer, the one you target with your campaigns, ads, blog articles, including demographic, behavioral, and psychographic information. With Make My Persona, you can define specific details about your target audience to improve the precision of your marketing strategies. HubSpot provides this tool to help businesses better understand their audience and create targeted messages and content.
CoSchedule Headline Studio: Evaluate the Clickability and SEO Optimization of Your Titles.
When it comes to blogging tools, a focus on SEO is essential. CoSchedule Headline Studio is a tool that helps you write better headlines for your content, like blog articles, that can attract more traffic and improve SEO rankings.
This tool is designed to assist content creators in crafting catchy and effective headlines. Here are some key features of CoSchedule Headline Studio:
Headline Analysis: Headline Studio allows you to analyze your existing headlines and provides suggestions on how to improve them to capture readers' attention."
Detailed Instructions: It provides detailed instructions on how to write effective headlines, considering SEO best practices and audience engagement.
WordPress Plugin: If you use WordPress, you can connect your Headline Studio account and get suggestions directly while writing your headlines in the WordPress editor.
Browser Extension: You can use the browser extension to analyze headlines on any website where you write content, such as WordPress, Wix, and others.
Data-Driven Suggestions: Headline Studio offers data-driven suggestions, helping you improve your headline score with effective keywords and writing strategies. SEO Score: It provides specific recommendations to optimize your headlines for search engines, contributing to better placement in search engine results pages. In essence, CoSchedule Headline Studio is a comprehensive tool to help you write better headlines, get more views, and improve your SEO, which is crucial for attracting a broader and engaged audience.
3. The World of Blog Writing: How to Create Engaging Content
In the world of blogging, writing is the true driving force, but having the right tools can make a huge difference. Google Docs, Wordable, and Grammarly are familiar names, but don't underestimate their potential in improving the grammar and structure of your articles. Let's take them one by one and discover how they can make a difference in your writing journey.
Google Docs: Your Best Companion in the World of Online Writing
Google Docs is an incredibly intuitive and user-friendly document editor that simplifies collaboration between writers and editors. No matter where you are or what device you're using, Google Docs allows you to create and work on documents in real-time directly from your browser. In fact, Google Docs isn't a dedicated blogging tool, but since it's a writing editor, we've decided to include it because it's one of the tools used for article writing.
With Google Docs, you have the power to create and edit text documents without having to download or install any dedicated software. The beauty lies in its simplicity: all you need is an internet connection and your preferred browser. Furthermore, collaboration becomes a breeze. Multiple people can work simultaneously on the same document, and changes are saved automatically.
But there's more! Google Docs gives you the freedom to download your documents in various formats, such as Word, to share or print them as you prefer. Additionally, if you already have Word documents, you can easily open them directly in Google Docs and view them seamlessly. It's the perfect partner to simplify your online writing and collaboration experience.
Wordable: Your Trusted Assistant in the Blogging World
With a simple click, it allows you to upload articles directly from Google Docs to WordPress, without losing formatting and without the frustration of hidden codes.
Imagine writing your masterpiece on Google Docs, with complete control over formatting and structure. "Then, when it's time to share it with the world, Wordable takes care of the dirty work." This fantastic platform streamlines the transfer process to the maximum, saving you valuable time.
Wordable is a formatting wizard: it keeps all the HTML elements of your documents intact, eliminating any unwanted formatting. So when your article lands on WordPress, it's perfectly ready to be published.
But there's more! Wordable is not just a technical tool. It also offers content marketing resources to help you take your articles to the next level. With resources like 'A No-BS Content Marketing Analytics Cheat Sheet,' it's the ideal companion for industry professionals looking to achieve tangible results in their content strategy.
This platform also offers different modes of use based on the services offered:
€ 0.0 /month
€ 46.70 /month
€ 467.00 /month"
Grammarly: Your Virtual Writing Assistant
Grammarly is a platform that provides writing assistance through the use of artificial intelligence. This tool is designed to help you write error-free content on various platforms, including Gmail, Facebook, Twitter, LinkedIn, and many others. Grammarly can even improve your text messages. With Grammarly, you can write more accurately and professionally in seconds. It's an essential resource for anyone looking to create high-quality written content. Grammarly, like Google Docs, isn't originally designed for blog article writing but rather as a writing support tool. That's why we decided to include it among our blogging tools.
How Grammarly Works
Grammarly can check over 250 different grammar rules, making it a comprehensive tool for proofreading. You can use Grammarly directly on your desktop or as an app on Android devices. This tool provides real-time suggestions to improve grammar, spelling, punctuation, and more. It's a complete solution to ensure your content is flawless.
Other features of Grammarly
Grammarly include the ability to provide helpful suggestions for improving your writing in various languages. You can also integrate it directly into your web browser to get real-time suggestions while writing online.
In conclusion, Grammarly is a powerful tool that uses artificial intelligence to offer writing assistance by correcting grammar, spelling, and punctuation errors. With its numerous features, Grammarly allows you to write accurately and professionally on various platforms and in multiple languages. It's a great resource for anyone looking to improve the quality of their written content.
It offers a free version and a paid plan ranging from €12.00/month to €14.00/month per member when it comes to company employees.
Brain: The AI-Powered Virtual Assistant by Zulla
Zulla is certainly one of the blogging tools that can provide the most support in content creation. Brain is a revolutionary AI chat designed to optimize productivity and simplify your daily work. It's the next-generation virtual assistant integrated directly into Zulla, ready to assist you with intelligent features.
It has the ability to understand the context of conversations, keeping track of chat history, allowing it to respond more cleverly to your questions.
Its ability to generate text in various forms is incredibly powerful. It can create articles, essays, conversations, product descriptions, and much more.
Need answers to questions? No problem, Brain can answer questions on a wide range of topics, providing detailed explanations.
Do you need to translate text into different languages? Brain can do it for you, a valuable feature for those working with multilingual content.
If you're a programmer, Brain can even generate programming code and assist you in writing programs.
When you need a burst of creativity, Brain can help you overcome writer's block and discover new ideas.
But it doesn't stop there; Brain can also explain complex concepts in a simple way, making it easier to understand difficult topics.
Furthermore, Brain is fully integrated with Zulla, which means you can use it to create high-quality written content quickly and efficiently.
As for the available plans, Zulla offers various subscription options to suit different needs:
Freelance: Starting at €12.20 per month with a limit of 20,000 words per month.
Small Agency: Starting at €32.00 per month with a limit of 80,000 words per month.
Agency: Starting at €97.00 per month with a limit of 150,000 words per month.
Enterprise: The Enterprise plan offers advanced features and can be customized to meet your specific needs.
4. Blogging SEO: Tools for Successful Online Blogging
In the vast world of SEO for blogging, keywords are the key to success. They allow you to discover what your audience wants and how to reach them. Tools like Ahrefs, SEMrush, and the Google Keyword Planner are like your loyal assistants on a mission to find the perfect keywords.
Imagine yourself as a digital explorer searching for hidden treasures. These tools guide you through the maze of online searches to uncover the hidden gems of keywords that your audience is searching for. And when you find these gems, you have the key to creating content that precisely meets your readers' needs.
But there's more! Keywords are not only the keys to your readers' hearts but also to the hearts of search engines. When you have the right keywords in your content strategy, you are improving your visibility on search engines.
But with the right tools, finding treasure and making your blog shine among the stars of search engines becomes a breeze. Let's analyze them together.
Ahrefs: An SEO Suite that Helps Improve Website Traffic and Link Analysis.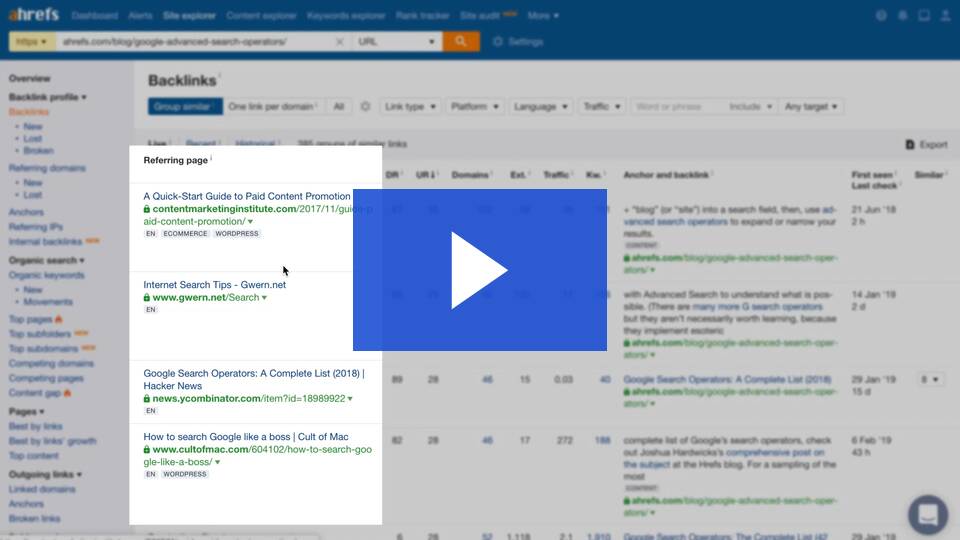 Founded in 2011 as a start-up, Ahrefs offers a range of useful functions for digital marketing professionals and SEO experts. Among its tools, you can find backlink analysis with a vast database, a free keyword idea generator, and a variety of affordable plans and prices to meet different needs.
The Ahrefs suite is used worldwide by SEO experts and marketing professionals to conduct in-depth website analyses, perform keyword research, and manage link building. Its wide range of tools helps improve website visibility in search engines and generates more organic traffic.
Additionally, Ahrefs offers an SEO toolbar that provides information on web pages and SERP tools, including an on-page SEO report, a broken link checker, redirect tracking, and other essential blogging tools. These tools can help optimize your SEO strategy and improve your website or blog's position in search results.
It offers various payment plans based on the services provided:
€ 89.00/month Lite
€ 179.00/month Standard
€ 369.00/month Advanced
€ 899.00/month Enterprise
Google Search Console:
Among all blogging tools, Google Search Console is certainly one of the most essential, and you absolutely cannot do without it. It is a web service provided by Google that allows you to monitor the indexing status on Google Search and the SEO aspects of your websites. This platform provides various data related to organic traffic from Google search. Users can monitor their website's performance, identify indexing issues, and optimize their position in search results.
Google Search Console offers various features, including search analysis, which helps you discover which queries direct users to your site. Additionally, it provides reports on crawl status, download sizes, and response time, helping site owners assess their website's performance and effectiveness.
This tool is fundamental for SEO professionals, web agencies, and website owners who want to improve online visibility and optimize their site's performance in Google search results.
Yoast SEO: The Essential Plugin for Improving SEO
Useful for search engine optimization and considered one of the best blogging tools, Yoast SEO is a plugin designed for WordPress. Extremely popular, with over 5 million active installations and more than 350 million downloads, along with over 25,000 five-star reviews, WordPress.orgIt was created by Joost de Valk in 2010 and has become a vital tool for improving website rankings on Google and other search engines.
Yoast SEO offers a range of features to optimize your website. These features include advice on improving keywords and your site's content, as well as managing meta tags and social media previews. Additionally, the plugin helps you connect your site to Google Search Console for better performance monitoring.
The Yoast SEO plugin is available in two versions: a free version and a premium paid version. The premium version offers additional features, including a redirect interface and advanced previews for Facebook and Twitter, with an annual cost of €99.00.
5. Blog Images: Images and Blogging in the New Digital Era
High-quality images are like the precious gems of your articles, but we know they can slow down your page if not optimized. This is where optimization heroes come into play: Adobe Photoshop, Canva, and TinyPNG.
Imagine being an image wizard, capable of reducing image sizes without losing their magic. With Adobe Photoshop, you can unlock the secret to making your images as light as a feather without compromising quality. Canva is like your personal assistant, ready to turn every image into a digital masterpiece. And TinyPNG is like the magic wand that effortlessly compresses images.
The result? A webpage that flies across the web, loading at supersonic speed. And your readers? They will be like first-class passengers, with a seamless browsing experience on your blog.
In short, these tools are not only allies in the image optimization battle but also creators of an extraordinary browsing experience for your audience.
But let's delve into them in detail together.
Adobe Photoshop: Painting, Creating, and Retouching. Everything at Your Fingertips
Adobe Photoshop is a software for processing photos and digital images produced by Adobe, widely used in the professional field for photo retouching, graphic creation, digital painting, and 3D compositions. This software is available for both desktop and iPad, offering a wide range of creative features.
Pricing and Subscription Plans: You can get Adobe Photoshop through a monthly or annual subscription. The prices vary depending on the chosen option and provide access to the latest features and cloud storage.
How to Download Photoshop: You can download Photoshop for a free 30-day trial from the official Adobe website.
Free Alternative: If you're looking for a free alternative to Photoshop, you might be interested in GIMP, an open-source photo editing software.
Mobile App: For quick photo editing on mobile devices, you can consider the Photoshop Express app, available for both Android and iOS.
Similar Adobe Programs: If you're interested in more Adobe programs, you can explore Adobe Creative Cloud, which offers a complete suite of creative tools, including Photoshop, Illustrator, InDesign, and more.
Canva: An Accessible Design Platform for Everyone
It is an online graphic design platform that allows users to create a wide range of visual content, including social media posts, presentations, posters, videos, logos, and more. Launched in 2013, this platform offers intuitive graphic design tools, making the process of creating visual content accessible even to those without advanced graphic knowledge. Canva is widely used by designers and professionals for its ease of use and extensive library of visual resources.
The Canva platform is available as both a website and a mobile application, allowing users to design and edit content wherever they are. You can access free templates to simplify the design process and create eye-catching graphics. What allowed Canva to gain popularity is its versatility and the ability to create high-quality visual content quickly, easily, and efficiently.
It has a free version and a paid version that costs around €110.00/year.
TinyPNG: Compress Images for Optimized SEO
It is a very useful online service for image compression, of great utility for anyone managing online content, including bloggers and web agencies, who may use images in their articles and websites.
TinyPNG offers an image compression service that reduces the file sizes of images without significantly compromising visual quality. This is crucial for improving website performance, as lighter images load faster, enhancing the user experience and contributing to SEO rankings.
Design Wizard: Design Software for Extraordinary Visual Content
Design Wizard is an online graphic design software that allows users to create and share brilliant visual content in minutes, in a fun and easy way. It offers the possibility to design graphic images and create short videos. Additionally, it provides a wide range of graphic design resources and templates for both beginners and experienced designers. The cost of use is $89 per year with the ability to download 60 design images to month.
Movavi Video Editor: How to Create and Edit High-Quality Video Content with a Click
Movavi Video Editor is an intuitive video editing software for Windows that allows you to create and edit a wide range of video content. With an integrated collection of effects, you can enhance your videos easily, creating high-quality content for friends and family. The interface is intuitive and allows you to master the software in just 20 minutes.
Zulla Imagine: An Artificial Intelligence Platform Revolutionizing Image Creation.
Zulla Immagina is a place where visual creation becomes simple and inspiring." It possesses features that make it unique. Imagine being able to create high-quality images without having to learn complex graphic skills. With Zulla Imagine, you can express your ideas using natural language, asking for exactly what you want. If you're looking for useful tools for your blog to accompany your content with images, you absolutely must give it a try.
This platform goes beyond simple image generation. Transforming into a creative companion, helping you find the perfect image for your next post or project. It's like having an artistic consultant always at your fingertips.
And if you're feeling stuck for inspiration, Zulla Imagine can suggest creative ideas based on your goals.
Customization is another of its strengths. You can browse a vast library of visual elements, styles, and templates to create unique images. Applying filters and effects is a breeze, and the result will always be extraordinary.
And it doesn't matter in which language you want to create your content, Zulla Imagine supports a whopping 24 different languages, offering versatility and functionality.
Bloggers and industry professionals love it because Zulla Imagine speeds up the creation of high-quality content. Zulla Imagine proves to be extremely functional for blogs, as it can mean captivating images and visual content ready to enrich your platform.
If you want to learn more, watch the video below or read our comprehensive guide on how to use Zulla Imagine to create fantastic images.
6. Blog Promotion: How to Make Your Content Known to the World
Lastly, you can't neglect traffic analysis and content promotion. Tools like Google Analytics and Google Search Console allow you to monitor your blog's performance and provide valuable insights into who visits your site, where they come from, and which content performs best. All data that allow you to adapt your strategy to achieve better results over time.
But if we were to plan your strategy from scratch by identifying current trends?
Let's discover together the tools that can be useful in this process.
Buffer: The Complete Solution for SMEs' Social Media Marketing
It's a platform that offers a complete toolkit for social media marketing, particularly useful for small businesses. The company is value-oriented and provides intuitive and cost-effective tools to help ambitious individuals and teams build an audience organically. Buffer allows you to manage your social network accounts, schedule and analyze posts on various platforms, including Twitter, Facebook, Mastodon, Instagram, Instagram Stories, Pinterest, and LinkedIn." It also offers community monitoring and engagement features.
BuzzSumo: The Key to Content Marketing Success and Competitor Analysis
It's a platform that offers a wide range of tools for content marketing and SEO campaigns. With BuzzSumo, you can track online mentions, get creative content ideas, and monitor your competitors' performance. This tool analyzes billions of pieces of content to provide comprehensive big data analysis, helping you identify the most important content in your industry.

BuzzSumo is also useful for identifying active influencers in your industry, which can be valuable for your marketing strategies. You can use it to find content creation and sharing ideas, making it an ideal tool for those working in content marketing. Furthermore, BuzzSumo is an essential research and monitoring tool for content marketing and SEO campaigns. It allows you to identify, monitor, and analyze content based on specific search criteria, contributing to the success of your online marketing strategies.
Google Trends: Your Companion for Trend Analysis in Searches
It's a Google analysis tool that allows you to investigate user search trends worldwide. Through this tool, you can find out the most searched keywords and popular topics during a specific period. Google Trends is useful for discovering the interests of users worldwide, exploring popular topics and search terms on Google at any given time, and seeing how they have changed over time. It can be used by marketing professionals, web agencies, and content creators to stay informed about current trends and plan data-driven strategies.
Quora: The Platform for Sharing Curiosity and Knowledge
Quora, founded by Adam D'Angelo and Charlie Cheever in June 2009, is an online platform dedicated to sharing knowledge through a question-and-answer system. Its main purpose is to connect people eager to learn, share ideas, and get answers to various questions. With a large user base, it boasts approximately 300 million monthly users.
Quora functions as a forum where users can ask questions and receive answers from the community. It's a free platform for sharing ideas, advice, and knowledge, organized by topic to facilitate the search for specific information. The active participation of users has made Quora a rich source of knowledge on a wide range of topics. If you want to explore new information or ask questions on a variety of subjects, Quora could be the ideal platform for you.
Moosend: The All-in-One Platform for Modern and Intuitive Email Marketing
It's an email marketing platform with advanced features for managing email campaigns, distribution lists, newsletters, and more. It's a cloud-based solution that offers marketing automation to efficiently manage multiple email campaigns. Moosend focuses on delivering modern and user-friendly email marketing experiences. It also provides features like creating landing pages.
Moreover, Moosend is appreciated for its simplicity without compromising on functionality. It's used by small and large businesses worldwide to enhance their email marketing strategies. The platform offers flexible pricing plans and can be a cost-effective choice for small-sized companies.
EmailOctopus: Simplify Your Email Marketing with Affordable and Effective Solutions
It's an email marketing platform that offers affordable solutions for managing and sending emails to your subscribers. With a drag-and-drop email builder, robust analytics, bounce and complaint tracking, EmailOctopus simplifies the process of managing your email lists and marketing campaigns. You can contact up to 2500 subscribers with their pricing plans, suitable for various needs. They also offer automation, segmentation, email templates, and analytics features to optimize your campaigns.
The platform provides a free version and a paid plan with feature enhancements, costing €8 /month.
These tools cover various aspects of blogging, from planning to writing, SEO optimization, and promotion. You can further explore each of them to see which one best suits your needs.
Bonus: Time, A Crucial Piece to Consider
In the fast-paced world of bloggers, mastering time management is the key to success. And to do that, we have powerful allies: Trello, Asana, and the Pomodoro Technique.
These tools not only help you manage your time but also put you in control of your day. And when time is on your side, the success of your blog is within reach.
Let's analyze, one by one, the capabilities of these tools and the benefits they can bring you.
Trello: Flexibility and Efficiency at Your Fingertips
It's a widely-used project management tool for organizing tasks and collaborating effectively. With Trello, you can create virtual boards, lists, and cards to organize personal or team projects. You can easily move tasks between different lists, assign tasks to team members, and set deadlines. Trello's intuitive interface makes it suitable for both simple and complex projects.
Trello is known for its flexibility and user-friendliness.
It's free, but it also offers a paid version with advanced features. It's available as a mobile and desktop application, allowing you to manage projects wherever you are.
Asana: The Secret Weapon for Organizing Projects and Collaborations with Ease
Asana is a web and mobile work management platform designed to help teams organize, track, and manage their work by allowing you to break work into projects, assign tasks, set deadlines, and track progress. It's a useful tool for improving collaboration within teams and increasing productivity.
Asana offers a variety of features, including the ability to view and track work at all levels of the organization, automate processes, and reduce time spent in status meetings. It's available in different versions, including a free version and paid plans with advanced features:
€ 0,0 /month Basic
€ 10,99 /month Premium
€ 24,00 /month Business
Pomodoro Technique: How to Maximize Your Productivity with Concentration and Rest Intervals
It's a time management technique invented by Francesco Cirillo in the late 1980s. This technique uses a timer to break work into intervals, typically 25 minutes in length, called "pomodoros," separated by short breaks. The name "Pomodoro" comes from the tomato-shaped kitchen timer that Cirillo used to time his work.
This technique is based on the philosophy of intensely focusing on a single task for the duration of a pomodoro and then taking a short break. After four pomodoros, a longer break, usually between 15 and 30 minutes, is scheduled. This methodology helps improve concentration, productivity, and time management.
There are numerous online Pomodoro timers and apps that you can use to apply this technique, such as Pomofocus and Tomato Timer.
This technique is widely appreciated for its effectiveness in time management and increasing productivity.
Write high-quality content with Zulla.
Artificial intelligence to support copywriters, digital marketers, businesses and students.
Try it for free for 14 days
Try it now
Conclusions
In this guide, we've examined a series of essential tools for success in the world of blogging, as each of them plays an important role in making your work more efficient and professional.
The choice and proper use of these tools can make the difference between a successful blog and one that goes unnoticed. Remember that the world of blogging is constantly evolving, and learning to make the best use of these tools can be the key to your continued success.
We thank you for reading this guide on Zulla and invite you to stay updated on our blog for more information and tips on how to improve your blogging.